The man sitting at the picnic table talking with me paused to put down his lemonade, "I know a man who can turn base metals into gold."
"Are you sure you want me to start out that way?" I asked, "No one will believe it. They'll laugh if I tell them you could do that."
"They never do. Unless a person comes to knowledge through their own awareness, they will resist what their eyes show them."
From this discussion, I began building his fictional persona. — One I hope to include in my third and as yet unnamed novel in the Unfolding Series.
–––––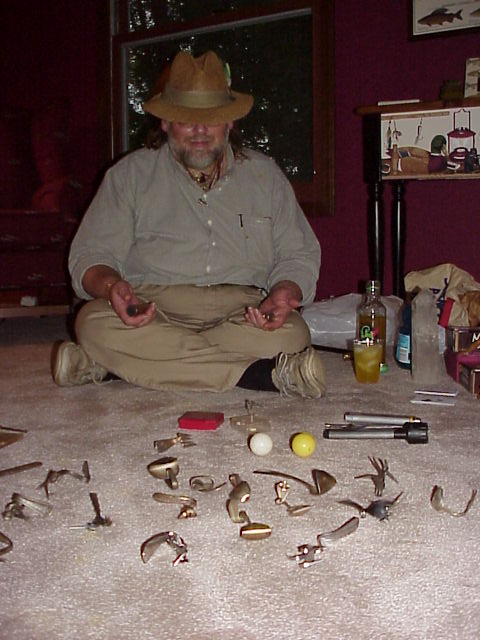 The Alchemist had had a good job as a teacher and an artist. He started on his spiritual path years earlier. He'd been a hippie in college, turned survivalist, practiced Hinduism, and studied Tai Chi with sword for six years.
I never knew The Alchemist before his life turned around and upside down. The stories were first told to me by mutual friends. Later I would hear them first hand. His life experiences are so varied and strange they can only be presented in fiction. He's right when he says no one would believe his story. I do though — parts of it at least.
It was an auto accident that did it. Now twenty years on I've come to believe the only thing that kept him alive was the excellent physical shape he was in from years of hard exercise.
Today he lives on  a pension, free to practice his arts.
And the bent forks and spoons in the foreground? Those are real.
– Jeffrey A. Limpert
__________________
Image Information:
The Alchemist
By Jeffrey A. Limpert