There is not one way. There are many mental and spiritual disciplines. We can choose to establish or limit our boundaries for right action.
They inform our choices in establishing or limiting our boundaries in order to maintain right action.

Some are more restrictive and rigid than others. More than a few have compromised their simple truths through the use of control mechanisms when those in charge wish to maintain authority and control rather than enlighten.
My friend Vern* likes to say that when a group discovers a truth, they are able to follow it until they attract about 50 followers. Once they grow to that size, someone decides to establish a building fund, compromising their founding principals in order to support the monetary requirements.
––––
Discipline is an underrated concept in today's anything-goes culture that considers plans over three months to be long-term.
Although there are natural adepts who require little or no training to become proficient in a specific practice, most people require instruction and must exercise their new belief system or arts.
For example, I took Reiki lessons to legitimize and hopefully improve a natural healing ability that relatives unconsciously recognized by asking for back rubs because I had, "warm hands."  While in the class, my teacher and I independently recognized that I had been deeply involved in it's formulations when living a life in the mountains near Tibet.
While the training was helpful, it was nowhere near as effective as if we were required to spend time in actual apprenticeship practicing Reiki under the supervision of experienced masters every day. I know I would have done better if such a program had been locally available.
Discipline need not come from authority. It may be drawn from a source of inspiration that has served us throughout the history of humanity. Though the best disciplines I have found are those brought forth through the applied use of will guided and developed by life experience.
––––
The paths offered by organized spiritual practices can be very helpful when choosing a direction in life. For the majority of people, established paths are sufficient to last a lifetime. They bring the benefits of continuity and community. They may give rhythm to the seasons with celebrations for major events such as planting, harvests, solstices and equinoxes.
In today's highly technical post-agricultural societies, we've largely lost sight of the affect and extent of nature's cycles on our lives. This loss impacts our ability to understand the environmental changes that we experience. It also leaves us less involved with the primary forces shaping our lives.
One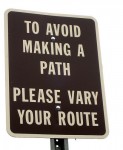 solution, to the problems that this loss brings, is to leave the mainstream on occasion. Look around! Try something else and see if it provides you with any of the missing ingredients which have limited your understanding and access to nurturing experiences, giving you a fuller and more meaningful life.
Your exploration may lead you back to the path you started on, take you to a new one, or allow you to continue away from the crowds — following your own inner voice and seeing your own truth.
A word of caution – Visit trusted people once in a while to have a reality check. People working too far from the mainstream may develop less than optimal belief systems which could lead to problems.
The world has the potential to be a forgiving place for those who have strayed too far. Sharing what you've come to understand and comparing it with others will either expand all of our understanding, or pull you back from the edge.
– Jeffrey A. Limpert
__________________
*Name replaced with a similar character's name.
Image Information:
Path of Wisdom
By scjody (Jody McIntyre)
https://secure.flickr.com/photos/scjody/4704563097/
_____
Life Philosophy
By cogdogblog (Alan Levine)
https://secure.flickr.com/photos/cogdog/2559104976/