A Thanksgiving Wish to Unfolding Readers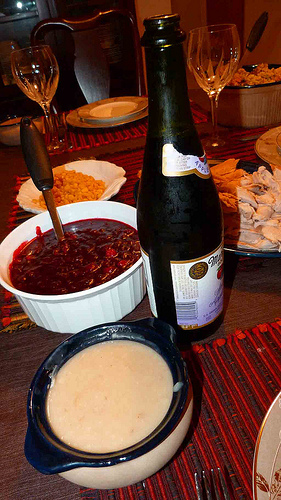 It's been a year with lots of change all around.
For all the turmoil and stress our wold has seen this year, we recognize the good that's come out of it. Especially the evidence of people coming together both on the international stage and here in the U.S. as we work to re-establish order and prosperity in our lives, including:
The  super-storm in the North-East
The elections
Returning veterans as the wars wind down
As to the changes in our little corner of the world, we give thanks for our new home, returning health to those who have been ill, and general recoveries all around.
We'll be celebrating with family today and over the weekend. Our absent friends are never far from our thoughts and will be remembered in a silent toast.
Please pour yourself a glass of your favorite celebratory beverage and join in our toast of thanks.
– Jeffrey A. & ConiAnn Limpert
__________________
Image Information:
 The table is ready…
By brad_holt (Brad Holt)
https://secure.flickr.com/photos/brad_holt/5207840506/
_____
Thanksgiving 2011
By thisreidwrites (Ruthanne Reid)
https://secure.flickr.com/photos/doortoriver/6403920583/